TECHNO: Jurnal Penelitian is a journal published by the Research and Community Service, Universitas Khairun. Published twice a year (May and October), contains six to fiveteen articles and receive articles or literature review in the field of Exact Science review studies with research methodologies that meet the standards set for publication. Manuscript articles can come from researchers, academics, practitioners, and other scientist observers who are interested in research in the field of Exact.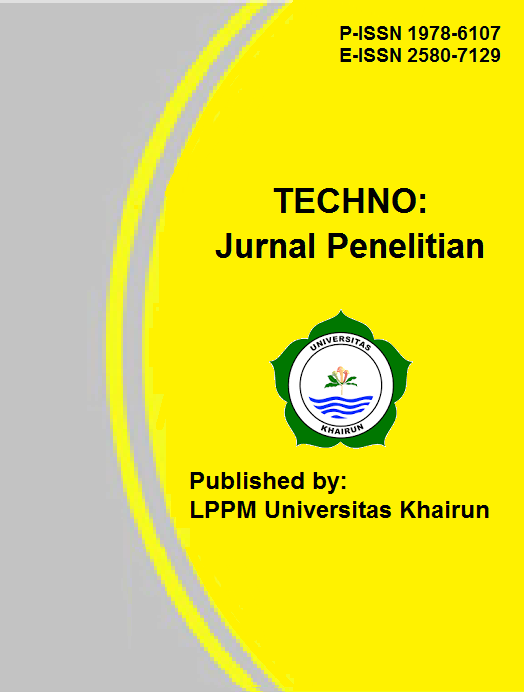 Announcements
TECHNO JURNAL PENELITIAN ACCREDITED SINTA S4

Techno: Jurnal Penelitian has been upgraded to SINTA 4 based on a decree from Kementerian Riset dan Teknologi/ Badan Riset dan Inovasi Nasional number 200/M/KPT/2020 about the Results of Scientific Journal Accreditation in Period III of 2020, which is valid for 5 (five) years.

Posted: 2021-02-20

CALL FOR PAPERS

CALL FOR PAPER
Techno: Jurnal Penelitian
Volume 10, Number (1) May 2021


Techno: Jurnal Penelitian accepts submission for the Volume 10, No. 1 (May Issues) 2021. The manuscript sent should demonstrate a rigorous analysis and clear methodologies, as well as written in an encouraging and analytical style. Techno: Jurnal Penelitian does not publish journalistic piece and predictive style of article. For the detail of writing-style and sample of the manuscript, please proceed to authors guidelines.


The submission deadline for the Volume 10, No. 1 (May issues) 2021:

April, 20Th 2021
Posted: 2021-02-20
More...
Vol 10, No 1 (2021): Techno: Jurnal Penelitian
Table of Contents
| | | |
| --- | --- | --- |
| | Yuslena Sari, Muhammad Alkaff, Eka Setya Wijaya, Gusti Nizar Syafi'i | |
| | | |
| --- | --- | --- |
| | Rinto Muhammad Nur, Bahtila Hakiang, Nurafni Nurafni, Resmila Dewi | |
| | | |
| --- | --- | --- |
| | Mohammad Ridwan Lessy, Rommy Mudafar Abdullah | |
| | | |
| --- | --- | --- |
| | Sugeng Haryanto, Helda Sabban | |
| | | |
| --- | --- | --- |
| | Ika Qurrotul Afifah, Esti Wahyu Widowati | |
| | | |
| --- | --- | --- |
| | Betty Kadir Lahati, Erwin Ladjinga | |
| | | |
| --- | --- | --- |
| | Valentina Dwi Anggita Sari, Mahfut Mahfut, Sri Wahyuningsih, Tundjung Tripeni Handayani | |
| | | |
| --- | --- | --- |
| | Mardiyani Sidayat, Mila Fatmawati | |
| | | |
| --- | --- | --- |
| | Nurdiyanawati Djumadil, Suhardi Suhardi | |
| | | |
| --- | --- | --- |
| | Rezuana Afrin, Sydur Rahman Gazi, Abu Abdulla Al-Mamun, Md. Hossain Khan, Muliadi Muliadi, Shamim Al Mamun | |