JIKO (Jurnal Informatika dan Komputer) is a scientific journal that began to publish volume 1 number 1 in 2018, then in 2020 JIKO began to be published as many as 3, namely in April, August, and December. Journals with E-ISSN numbers 2614-8897 and P-ISSN 2656-1948 have been accredited SINTA 4 by the Ministry of Education, Culture, Research, and Technology with the number 105/E/KPT/2022. This accreditation is valid for 5 years, namely volume 4 number 2 in 2021 to volume 9 number 1 in 2026. The Digital Object Identifier (DOI) address of JIKO is http://dx.doi.org/10.33387/jiko. This journal contains the results of research on Intelligent Systems, Image Processing, Computer Systems, Social Informatics, Digital Forensic, Health Informatics, Game Media and Mobile Technology, Data Mining, Human and Computer Interaction, Machine Learning, Natural Language Processing, Virtual Reality, E-Learning and related fields of computer science.
Manuscript submission could be done by registering and creating an account at http://ejournal.unkhair.ac.id/index.php/jiko or if you get a problem in the system, you can send it via email to the journal editorial at if_jiko@unkhair.ac.id
The manuscripts are written following the author guidelines.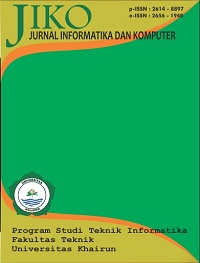 Announcements
No announcements have been published.
Vol 6, No 2 (2023): JIKO (Jurnal Informatika dan Komputer)
Table of Contents
| | | |
| --- | --- | --- |
| | Kurnia Setiawan, Arief Wibowo | |
| | | |
| --- | --- | --- |
| | Ananda E S Setyadji, Arief R R Putrananda, Daffa H Permadi, Rais I Nustara, Reyhan B Pratama, Tegar A Masyhuda, Eva Hariyanti | |
| | | |
| --- | --- | --- |
| | Jennis Tonapa, Erma Suryani | |
| | | |
| --- | --- | --- |
| | Ananda Viamianni, Rahmat Mulyana, Fitriyana Dewi | |
| | | |
| --- | --- | --- |
| | mariyanto totox, Hilman F Pardede | |
| | | |
| --- | --- | --- |
| | Faldi Faldi, Dinamita Romadoni, Muhammad T Sumadi | |
| | | |
| --- | --- | --- |
| | Alif Fajar Panjalu, Syariful Alam, Mochammad Imam Sulistyo | |
| | | |
| --- | --- | --- |
| | Anna Baita, Inggar Adi Prasetyo, Nuri Cahyono | |
| | | |
| --- | --- | --- |
| | Ali Helmut, Danang Triantoro Murdiansyah | |
| | | |
| --- | --- | --- |
| | Ananto Tri Sasongko, Sunita Dasman | |