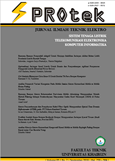 PROtek : Jurnal Ilmiah Teknik Elektro that was first published in September 2013.  PROtek is a peer-reviewed journal published by Faculty of Engineering Department of Electrical Engineering, Universitas Khairun. The aims of this journal is to provide a venue for academicians, researchers and practitioners for publishing the original research articles or review articles. The scope of the articles published in this journal deal with a broad range of topics, including: 
Electrical Engineering, Electronics, Telecommunications, Control Techniques, Information Technology, Renewable Energy, Energy Convertion, Artificial Intelegent, Robotic, Image Processing, Video Processing, Neural Network.
The Journal of PROtek : Jurnal Ilmiah Teknik Elektro Publish 2 (two) times a year in May and September. PROtek Journal as of September 2016 published in electronic version with E-ISSN 2527-9572 and P-ISSN 2354-8924. PROtek's journal has been accredited (SINTA 3) by accreditation of National Journals (ARJUNA) administered by the Ministry of Research, Technology, and Higher Education, Republic of Indonesia. Address Digital Object Identifier (DOI) PROtek Journal published from Crossref https://doi.org/10.33387/protk
PROtek Indexing:

This work is licensed under a Creative Commons Attribution-NonCommercial-ShareAlike 4.0 International License.
Announcements
No announcements have been published.
Vol 8, No 2 (2021): PROtek : Jurnal Ilmiah Teknik Elektro
Table of Contents
Articles
| | | |
| --- | --- | --- |
| | Budi Santosa, Didik Aribowo, Irwanto Irwanto | 59 - 63 |
| | | |
| --- | --- | --- |
| | Hery Teguh Setiawan, Arrizka Asyriati Adipradana | 64 - 67 |
| | | |
| --- | --- | --- |
| | Muhammad Ruswandi Djalal, Nasrun Kadir | 68 - 71 |
| | | |
| --- | --- | --- |
| | Agim Tetuko, Djuniadi Djuniadi, Esa Apriaskar | 72 - 75 |
| | | |
| --- | --- | --- |
| | Antonius Rajagukguk, Joel Fernando Simamora, Edy Ervianto | 76 - 82 |
| | | |
| --- | --- | --- |
| | Irfan Mujahidin, Dwi Arman Prasetya, Rahman Arifuddin, Putri Surya Arinda | 83 - 88 |
| | | |
| --- | --- | --- |
| | M Yoga Azto Diraputra, Sopian Soim, Sarjana Sarjana | 89 - 95 |
| | | |
| --- | --- | --- |
| | Gita Affrylia, Mohammad Fadhli, Lindawati Lindawati | 96 - 101 |
| | | |
| --- | --- | --- |
| | Sanyyah Plowerita, Ade Silvia Handayani, Irawan Hadi, Nyayu Latifah Husni | 102 - 112 |
| | | |
| --- | --- | --- |
| | Asmawaty Azis, Muh Sakir, Nurhalisa Nurhalisa | 113 - 117 |