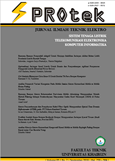 PROtek is an electrical engineering scientific journal that was first published in September 2013.  PROtek is a peer-reviewed journal published by Faculty of Engineering Department of Electrical Engineering, Khairun University. The aims of this journal is to provide a venue for academicians, researchers and practitioners for publishing the original research articles or review articles. The scope of the articles published in this journal deal with a broad range of topics, including:
Electrical Engineering
Power Engineering

Control Techniques

Telecommunications

Electronics

Information Technology

Renewable Energy
Energy Convertion
Artificial Intelegent
Robotic
Image Processing
Video Processing
Neural Network
The Journal of PROtek Publish 2 (two) times a year in May and September. PROtek Journal as of September 2016 published in electronic version with E-ISSN 2527-9572 and P-ISSN 2354-8924. PROtek's journal has been accredited (SINTA 4) by accreditation of National Journals (ARJUNA) administered by the Ministry of Research, Technology, and Higher Education, Republic of Indonesia. Address Digital Object Identifier (DOI) PROtek Journal published from Crossref https://doi.org/10.33387/protk
PROtek Indexing:
Announcements
No announcements have been published.
Vol 7, No 2 (2020): PRotek : Jurnal Ilmiah Teknik Elektro
Table of Contents
Articles
| | | |
| --- | --- | --- |
| | Anang Dwi Prakoso, Fikra Titan Syifa, Danny Kurnianto | 55 - 59 |
| | | |
| --- | --- | --- |
| | Atik Charisma, Een Taryana, Dede Irawan Saputra, Muhammad Burhannudin Misuari, Aldi Setiawan, Faisal Dharmawan | 60 - 64 |
| | | |
| --- | --- | --- |
| | Muhammad Badruzzaman, Didik Aribowo Aribowo, Desmira Desmira | 65 - 71 |
| | | |
| --- | --- | --- |
| | Dimas Hutomo Daud Saputro, Joko Subur, M Taufiqurrohman | 72- 77 |
| | | |
| --- | --- | --- |
| | Zulfahmiz Abd Gani, Syafruddin Syarif, Yuyun Yuyun | 78- 83 |
| | | |
| --- | --- | --- |
| | Fery Irawan, Ciksadan Ciksadan, Suroso Suroso | 84- 89 |
| | | |
| --- | --- | --- |
| | Muhammad Fadhiil Febriyan, Ibnu Ziad, Suroso Suroso | 95- 98 |
| | | |
| --- | --- | --- |
| | Try Susanto, Syaiful Ahdan | 99- 103 |
| | | |
| --- | --- | --- |
| | Nasron Nasron, Suroso Suroso, Chandra Buana | 104 - 109 |